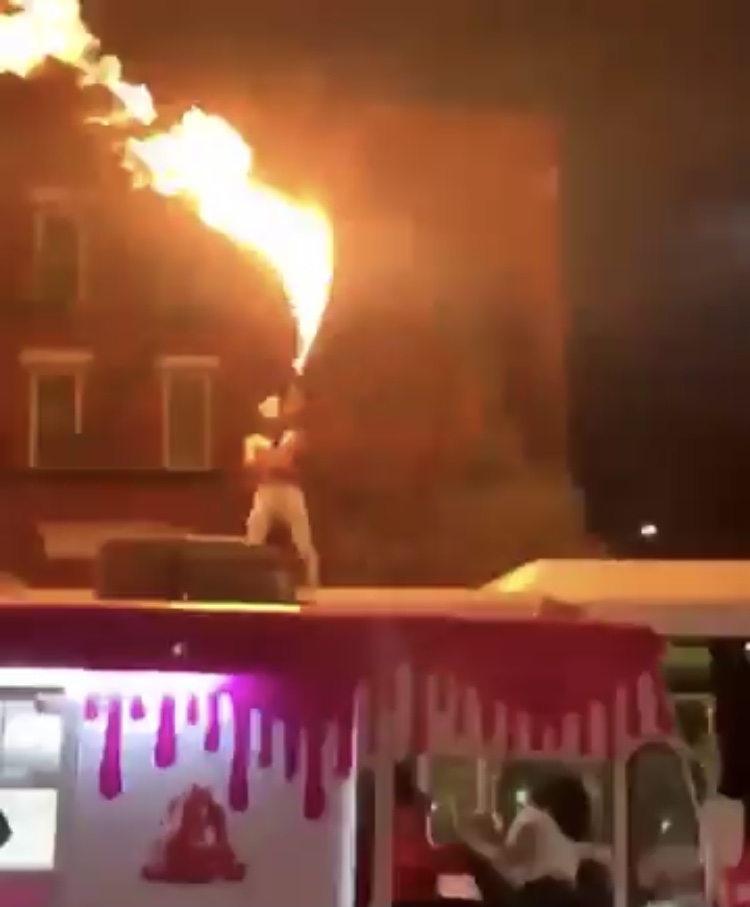 NEW YORK CITY (77WABC) – Now THIS is an only in New York moment!
A shirtless man jumps from an ice cream to a city bus in Brooklyn and triumphantly wields a flame thrower spraying it in the night sky as onlookers watch in awe – with their cell phones out of course recording the entire stunt.
According to the MTA, the huge geysers of fire started streaming across Bed-Stuy's skies around 5:30 p.m. on November 8th.  None of the 25 passengers aboard the B26 bus were injured and neither was anyone in the ice cream truck or any onlookers.
"We don't even need to say how absurd, dangerous and just plain stupid this was. The reckless individual who torched over the top of an occupied bus put New Yorkers, including the bus operator, in life-threatening peril," said Tim Minton, a spokesperson for the agency. "We are grateful the courageous actions of the operator in moving riders to safety minimized risk, and are cooperating fully with the NYPD investigation."
On Twitter and Instagram, Rapper Dupree G.O.D. posted that the flamethrowing was part of a music video for his song "Wu Tang," and that he hired the ice cream truck for the occasion.  The NYPD says it is investigating the incident.
Only in New York.  Only in New York.
*Update* The rapper, will be turning himself in at the 79th precinct in Bed-Sty by 1:30 Wednesday afternoon.
Must see video: Rapper pulls stunt for video by using a flame thrower on top of a NYC bus! NYPD says it's investigating #onlyinNY pic.twitter.com/Egq07edCU5

— TalkRadio 77 WABC (@77WABCradio) November 18, 2020
We are aware of a video circulating social media that shows a man using a flame thrower on top of a bus in Brooklyn.

The incident is currently under investigation. We have the utmost confidence in our @NYPDDetectives that this case will be solved quickly. pic.twitter.com/KPnMlYJb1g

— NYPD NEWS (@NYPDnews) November 17, 2020