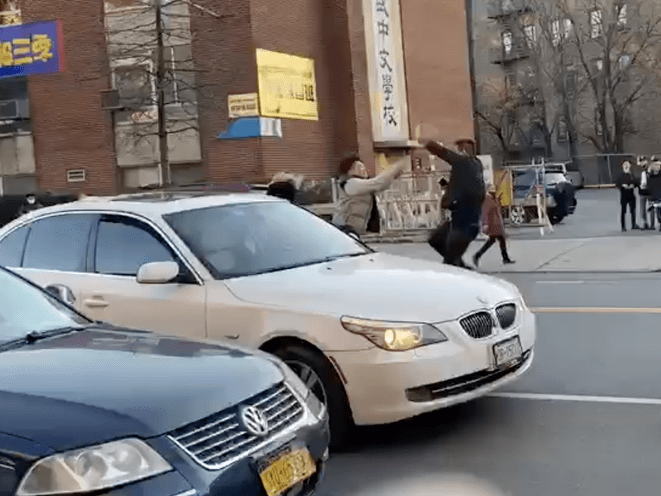 QUEENS (77WABC) – Finding a parking spot in Queens in tough, but these guys took it to a whole new level.
Below you'll see video of a road rage incident that spiraled out of control when two guys fought over a parking spot on Kissena Boulveard in Flushing which then caused one of the cars involved to crash into the Rainbow bakery.
Witnesses reported that one of the men was trying to the beat the other with a baseball bat.
"Beat him up and tried to damage his vehicle. I think that's why he got mad. He making a U-turn of his vehicle, drove up to the curbside and smashed into the bakery," witness Andy Chen said.
Police said the Audi driver was purposely trying to run over the other party when he lost control.
All four men involved in the brawl were arrested, but the damage they caused to Rainbow Bakery couldn't have come at a worse time.
Owner John Lo showed CBS2 all that was left of his brand new equipment and merchandise. Monday marked his grand opening.
Two innocent victims were injured by flying glass, but are expected to be okay. Police said all four men involved in the fight will be charged with assault.
Pretty lucky no one died during this insane road rage battle in Flushing yesterday, apparently sparked by a parking space dispute https://t.co/6RqGG3lbaS pic.twitter.com/SQZMQStP5l

— Jake Offenhartz (@jangelooff) November 17, 2020