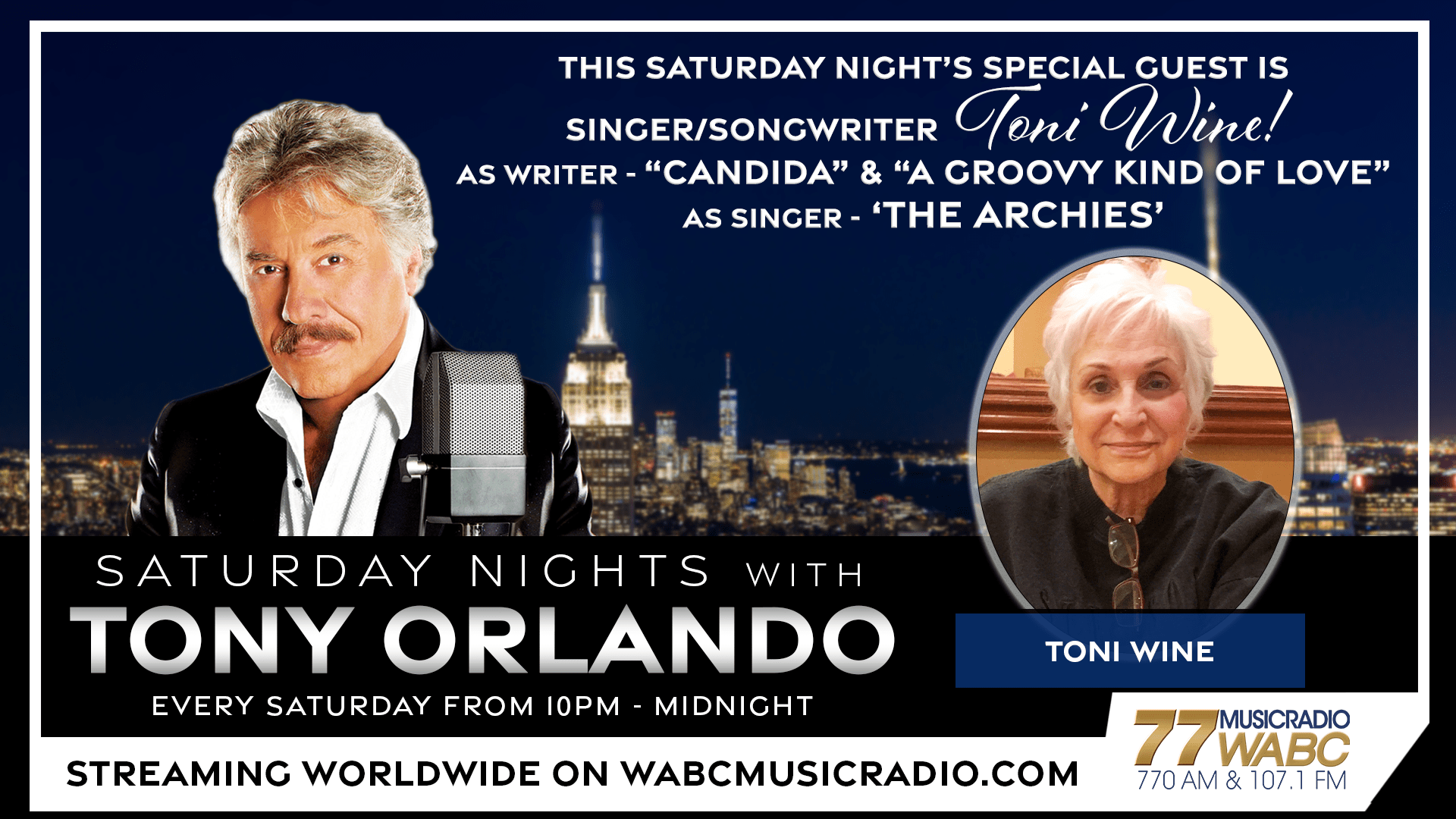 Hi, everyone! This is Tony Orlando!
This Saturday night, my guest is singer and songwriter TONI WINE!
She wrote the first million-selling record "Candida" with lyricist IRWIN LEVINE for us, TONY ORLANDO & DAWN. She had a two time number one song, "A Groovy Kind of Love," which she wrote with CAROL BAYER SAGER. The first time it charted at #1 was by the British group THE MINDBENDERS in the '60s. Then that same song went to #1 in the 80's for PHIL COLLINS. By the way, his video of that song has over 23 million views on YouTube! Toni Wine also gave me a Top Ten hit with DAWN called "What Are You Doing Sunday?" Toni also wrote with Phil Spector and Irwin Levine, the highly coveted and respected song "Black Pearl," recorded by SONNY CHARLES and THE CHECKMATES. Toni Wine was also in THE ARCHIES along with lead singer RON DANTE, and the voice of Betty and Veronica on that iconic animated TV series.
Toni is the voice of many classic jingles, such as "You Deserve A Break Today At McDonald's!" and "Reach Out And Touch Someone." Sometimes, she was the voice of the "Meow Meow" Meow Mix commercials, and "I'm A Pepper, You're A Pepper!" jingle. Toni Wine is truly a legend in the music industry as she has sung background on giant hits like "Always On My Mind" for WILLIE NELSON, "Cherry, Cherry" for NEIL DIAMOND and his "Sweet Caroline" also "Bad, Bad" by LEROY BROWN with JIM CROCE.
She is truly a living, breathing American song book! I'm privileged to have had her playing keyboards, performing, and singing with me on stages around the world for the last 23 years! We met when we were in our teens in the legendary building we refer to as "Hits Central," the famous 1650 Broadway Building in NYC. Tonight, you won't believe who and what songs were born on the floors of that iconic office building!
Please join Toni Wine tonight as she takes us on a magical musical carpet ride! Saturday night, 10 PM to Midnight EST on 77 WABC and streaming around the world on WABCradio.com!