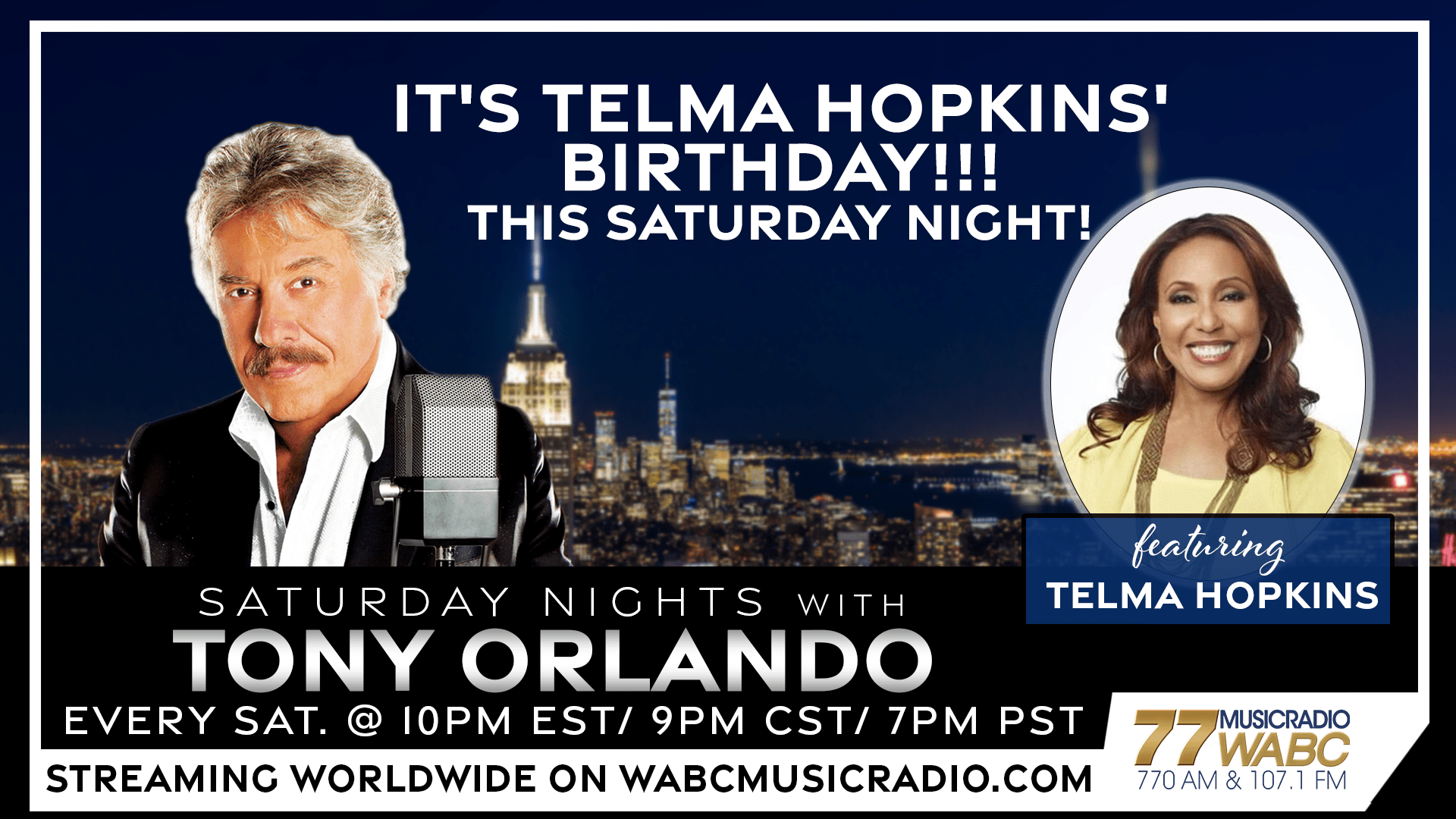 Hello everyone!
Since I started this amazing radio journey with the iconic Music Radio 77 WABC, a New York based radio station… which is celebrating it's 100th Year Anniversary this year … And I say CONGRATULATIONS!!!! To my new radio home and to all of the 77WABC family!
And so this Saturday night, I thought the timing would be perfect to celebrate another important person in my life….TELMA HOPKINS! Sidekick to my left on the TONY ORLANDO & DAWN Variety Show. That was such a monster hit for us on CBS from the summer of 1973 to 1977, and TELMA, JOYCE and myself enjoyed a magical carpet ride recording career! So, for Telma's birthday tonight, we explore the life and times of this extraordinary woman, TELMA HOPKINS! She has not been off network television for the last 48 years, and continues to be what I believe is the longest running sitcom actress and star in the history of television, other than BETTY WHITE, and still has many, many years to reach the great Betty White's age!
From our variety show, she was in the award winning tv series "Roots," then along with TOM HANKS she appears as a regular in "Bosom Buddies"… then went on to co-star in "Gimme A Break" with NELL CARTER, and then went on to co- star in "Family Matters" as AUNT RACHEL…Which is still airing reruns and had a successful reunion on Netflix! This amazing actress then went on to star in a five year run with a show called "Half & Half," to another hit show called "Are We There Yet?"….not slowing down! She and MARTIN LAWRENCE then team up in a highly acclaimed show, "Partners." These accomplishments are truly amazing, and she still has not stopped! From the hit Netflix series "Dead To Me," to joining "The Young & The Restless," and also starring in the upcoming motion picture "The Matrix Resurrections." And on tonight's show we will play all of the MOTOWN recordings she sang on, such great records as "Theme from Shaft" by ISAAC HAYES, to " I Heard It Through The Grapevine" by MARVIN GAYE…to "Reach Out (I'll Be There)" by THE FOUR TOPS, "Band Of Gold" by FREDA PAYNE, and the forever loved "I Can't Help Myself (Sugar Pie, Honey Bunch)," also by THE FOUR TOPS! And let's not forget all of our TONY ORLANDO & DAWN Gold and Platinum albums and all of our 16 Top 40 hits and 5 Number One hits that Telma was such a major part of! Making all those hits happen along with JOYCE VINCENT and myself!
All of you have asked, "When are Telma or Joyce coming on the show?" Well, I waited for a moment like tonight… a special night, yessss!!!!!!
It's Telma's birthday! So if you're a Telma Hopkins fan, as I am, you are invited to her birthday party and to thank her for all she's given us and still gives us!
Telma is on my show this Saturday night on Music Radio 77 WABC!
10pm-Midnight EST/9pm -11pm CST/7pm- 9pm PST
Streaming around the world on WABCRadio.com!