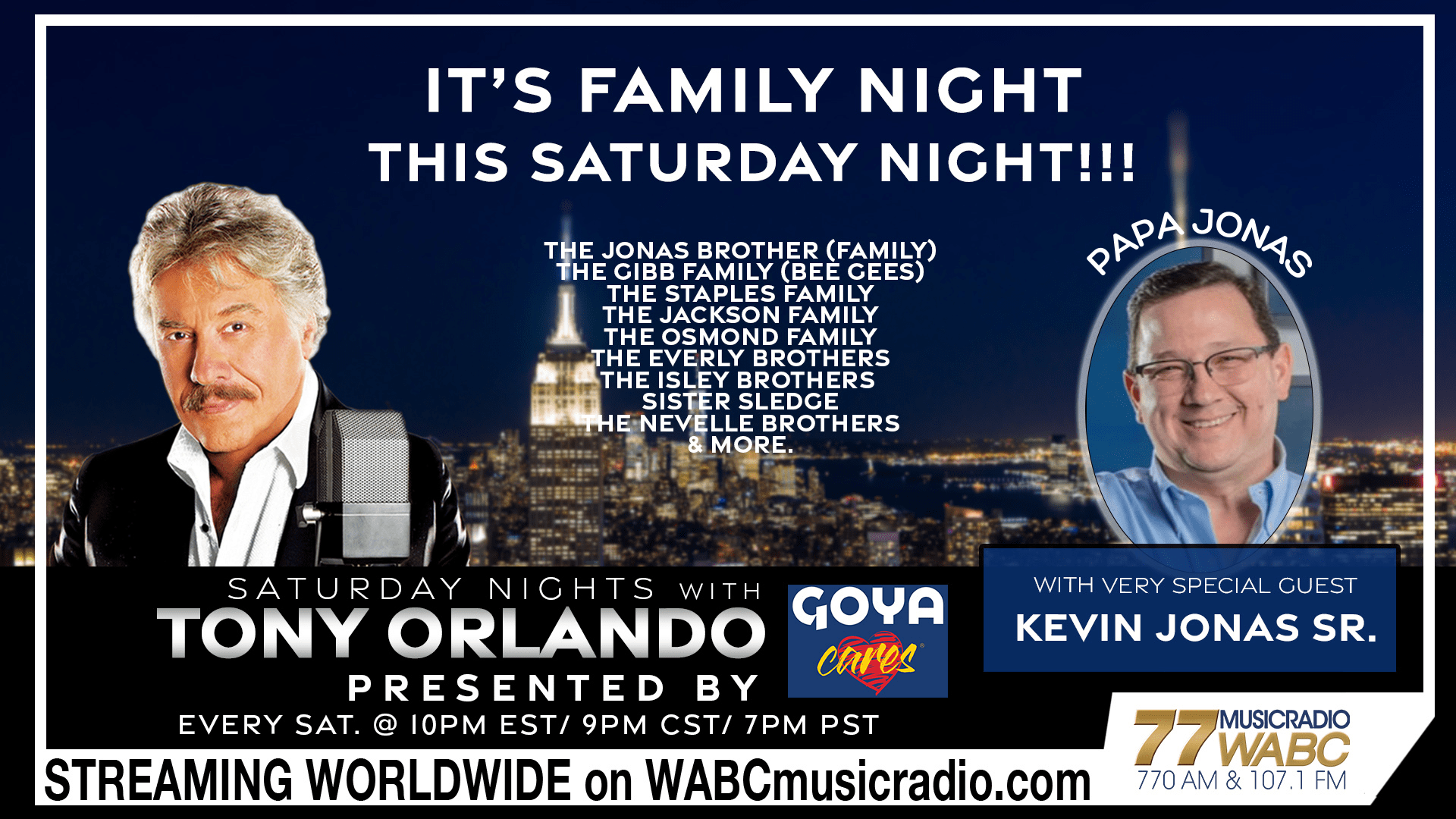 Hello everyone!
Have you ever thought about how many families have made music industry history?! Well, this Saturday night we explore that question by inviting KEVIN JONAS SR., or PAPA JONAS as he is so often called! The JONAS Family are remarkable music industry PHENOMS! 4 brothers, and their dad, for the last two decades have dominated the world with hits as a trio…THE JONAS BROTHERS. NICK, JOE, and KEVIN, selling mega-millions and filling stadiums with a BEATLE-esque career…collectively writing and producing hit after hit, and also individual career success.
As an example, NICK JONAS, has starred on Broadway an unbelievable 5 times, beginning at the tender age of 9 in "Beauty and the Beast" and to "Les Miserables"….NICK JONAS was a seasoned actor and singer even before his teens. And JOE JONAS, with his own band DNCE, had a massive million- seller "Cake By The Ocean."
PAPA JONAS has had incredible success with his Christian albums. It's hard to imagine that PAPA JONAS actually co-wrote "When You Look Me In The Eyes" with his then 9 year old son Nick. And then went on to record the original duet with Nick, and continued to record with all 3 sons,THE JONAS BROTHERS!
In fact, they had their first hit record with Papa singing lead with them. Yes, this is an extraordinary family, and it is easy to call them a phenomenon!! Right now, the brothers KEVIN JONAS and and the youngest of the brothers FRANKIE JONAS, have a hit show on ABC Network called "Claim to Fame"! And on top of all of that, the JONAS BROTHERS have just finished a sell out, multi-million dollar residency at the PARK MGM in Las Vegas!
KEVIN JONAS SR., also managed superstars DEMI LOVATO, and JORDIN SPARKS, and now is opening a new restaurant in the MGM grand called "Nellie's Southern Kitchen", which opened to incredible reviews! So, tonight we put together our FAMILY NIGHT SHOW, and we'll hear music from great family recording artists such as THE OSMOND FAMILY, THE JACKSON FAMILY, THE STAPLES FAMILY, The GIBB FAMILY(THE BEE GEES), SISTER SLEDGE, SLY AND THE FAMILY STONE, to THE EVERLY BROTHERS, and to the MAMAS AND THE PAPAS! Wow, Wow, Wow! This may be one of the most amazing shows I've ever hosted, with an astounding playlist!
So, gather the family around the radio and marvel at these music-making family greats . Also for young artists starting out in music industry, PAPA JONAS maps out what it takes to make it today in this very competitive world of music. Yes, Family Night looks to be an outta sight show! So, join me this Saturday night!
10pm-Midnight EDT
9pm-11 pm CDT
7pm-9pm PDT
And streaming world wide! To stream, just go to WABCmusicradio.com!