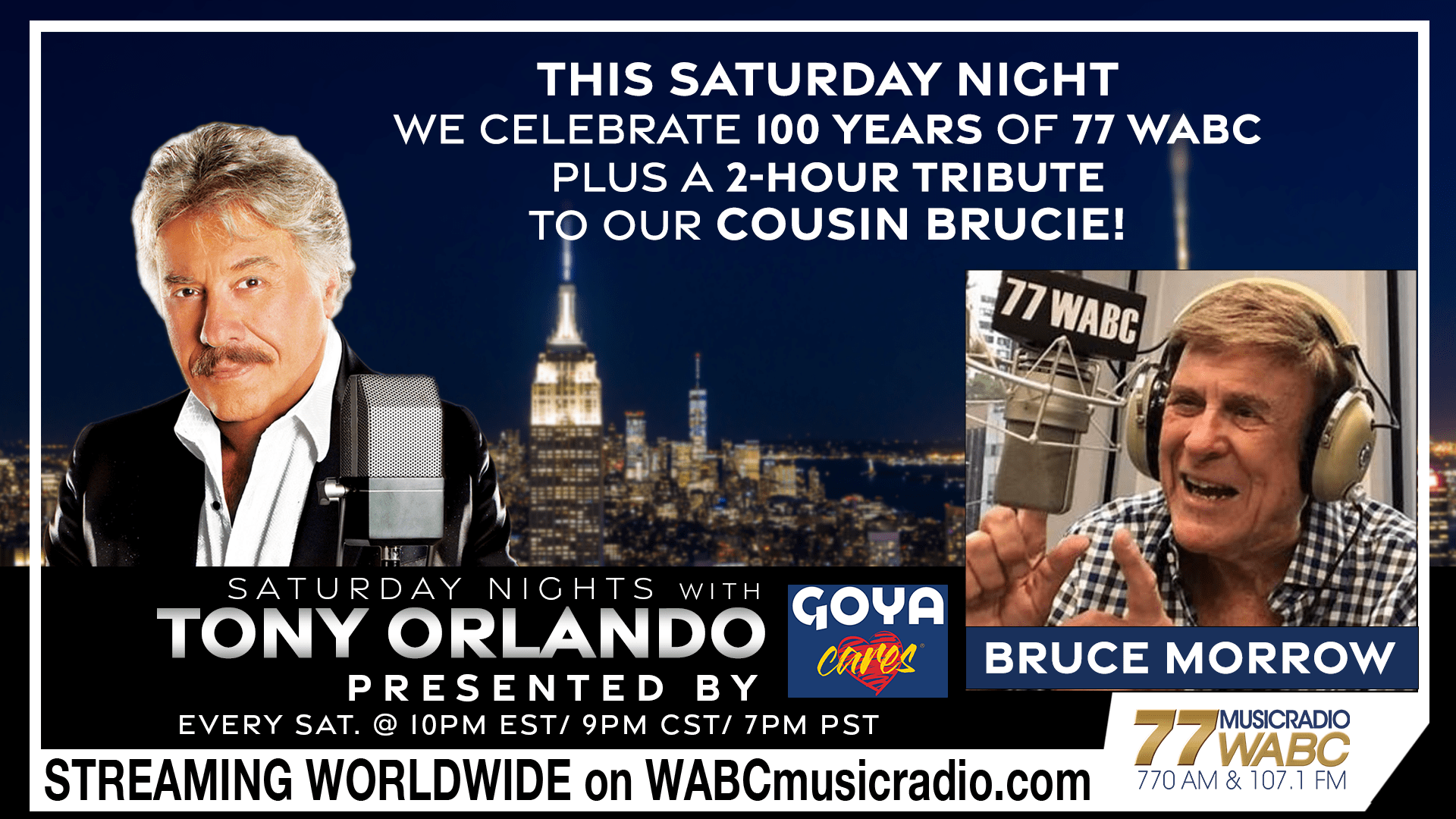 Hello everybody!
Radio GIANT 77WABC's, BRUCE MORROW, known to New Yorkers since 1960 as COUSIN BRUCE MORROW, or in most cases he is referred to even more lovingly as "COUSIN BRUCIE"…started playing a new format for radio ("Top 40") on Music Radio 77 WABC in the year 1960. Between that year to this year, 2022, it's unimaginable the genres of music he brought to New York City and the nation!
Every thing from Doo-Wop, to THE BEATLES, THE ROLLING STONES, and for that matter, the entire British Invasion. And also during the Vietnam period the BOB DYLAN, Folk protest songs era, like Dylan's "Blowing In The Wind ". which gave birth to groups like THE BIRDS "Mister Tambourine Man" and "Turn ,Turn, Turn" , or THE ANIMALS who recorded "We Gotta Get Out of This Place", which what is, to this day, for those who served in the Vietnam war, their theme song.
COUSIN BRUCIE also presented artists live on stage at Palisades Park on the Cliffs of the Palisades, New Jersey. So huge were those shows, that singer FREDDY CANNON had a Number One record called "Palisades Park" in tribute to COUSIN BRUCIE'S stage shows. In fact, the first time I ever stepped on a stage was at COUSIN BRUCIE'S infamous Palisades Parks shows. And just to give you an idea of the recording artists whose records were played by this man and in many and most cases for the first time…It goes like this: DION and THE BELMONTS, BOBBY DARIN, CONNIE FRANCIS, JAY SIEGEL, THE TOKENS, FELIX CAVALIERE, THE RASCALS,LITTLE ANTHONY AND THE IMPERIALS, SIMON AND GARFUNKEL, THE BEATLES, THE ROLLING STONES, THE BEACH BOYS, NEIL SEDAKA, THE MONKEYS, THE TEMPTATIONS, DIANA ROSS and THE SUPREMES, MARVIN GAYE, RAY CHARLES, NEIL DIAMOND, BILLY JOEL, JOHN FOGERTY, CREEDENCE CLEARWATER REVIVAL,CHUCK NEGRON'S THREE DOG NIGHT, LEE GREENWOOD, and THE COMMODORES with LIONEL RICHIE…And believe me, the list just goes on and on. This tribute is a full two hour tribute to what may be the most influential DJ radio personality ever in radio history. And here is the most amazing fact about COUSIN BRUCIE who started playing Top 40 music and records in the year 1960. He is still on the air on Music Radio 77 WABC. 77 WABC is celebrating 100 years of broadcasting excellence in New York City and now streaming worldwide!
Bringing us popular music 62 years later since this young Brooklyn-born DJ radio personality made his debut on this station 77 WABC, which is, without doubt, the most powerful, most iconic, most historical radio station in the nation! Yes, we are honored ,proud, and privileged to pay tribute this Saturday Night to COUSIN BRUCIE, this warm-hearted and most influential radio personality in Music Radio history, who was Inducted to the National Radio Hall of Fame in 1988, and inducted into the National Association of Broadcasters Hall of Fame in 2001 ,and most recently inducted into the East Coast Music Hall of Fame this year, 2022, and I'm sure many more honors yet to come. So, this Saturday night, join us as we pay tribute to everyone's favorite relative … COUSIN BRUCE MORROW! On 100 years of broadcasting excellence for 77 WABC!
10pm-Midnight ET
9pm-11pm CT
7pm-9pm PT
And streaming worldwide on WABCmusicradio.com!