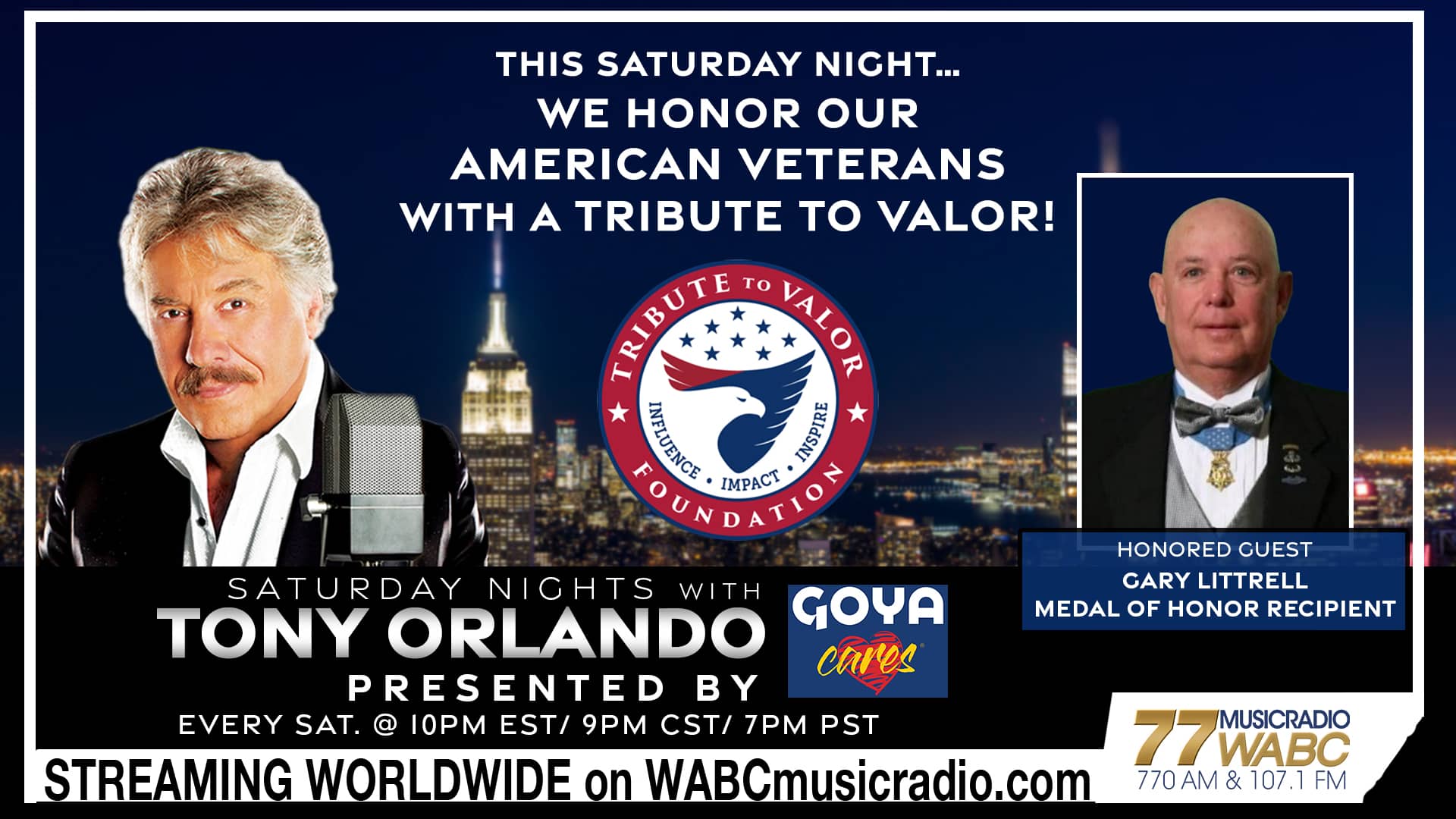 11-9-TONY-ORLANDO-ARTICLE-7
Hello my friends!
This weekend we recognize our veterans, because it is Veterans Day weekend! Yes, this Saturday night we will play some of the most powerful and most inspirational recordings that honor and pay tribute for those who put their life on the line for us, and to remember with honor those who gave their last full measure of devotion!
We also will be speaking with my friend, Medal of Honor recipient, GARY LITTRELL. We will hear his incredible story that earned him the highest honor one can receive in our Nation!!! And we will also talk about his "Tribute to Valor" Foundation that speaks to the future of our nation…our children!!!!
A plan that teaches our kids the six core values of the Medal of Honor recipients which are: courage, sacrifice, commitment, integrity, patriotism, citizenship, and asks America's student to look in the mirror and ask the question…"Who am I?".
A powerful teaching tool for our schools in America to incorporate into their curriculum. GARY LITTRELL is also the Grand Marshall of this years Veterans Day Parade in Dallas, Texas! And I am so proud and humbled to have been asked by Gary to share the parade's Grand Marshall title and the seat next to him on the parade's Veterans Day float! I'm so totally humbled!!!!
Yes, this Saturday night, we will honor our American Heroes, yes, our American military veterans! Please join and salute them with us right here, this Saturday night, on Music Radio 77WABC! It is without question THE MOST POWERFUL, MOST ICONIC, MOST HISTORICAL RADIO STATION IN THE NATION!
Proudly presented by GOYA FOODS.
Listen:
10 pm-Midnight EST
9pm-11pm CST
7pm-9pm PST
Streaming worldwide WABCmusicradio.com! To stream just tap the link above and it will take you straight to streaming!