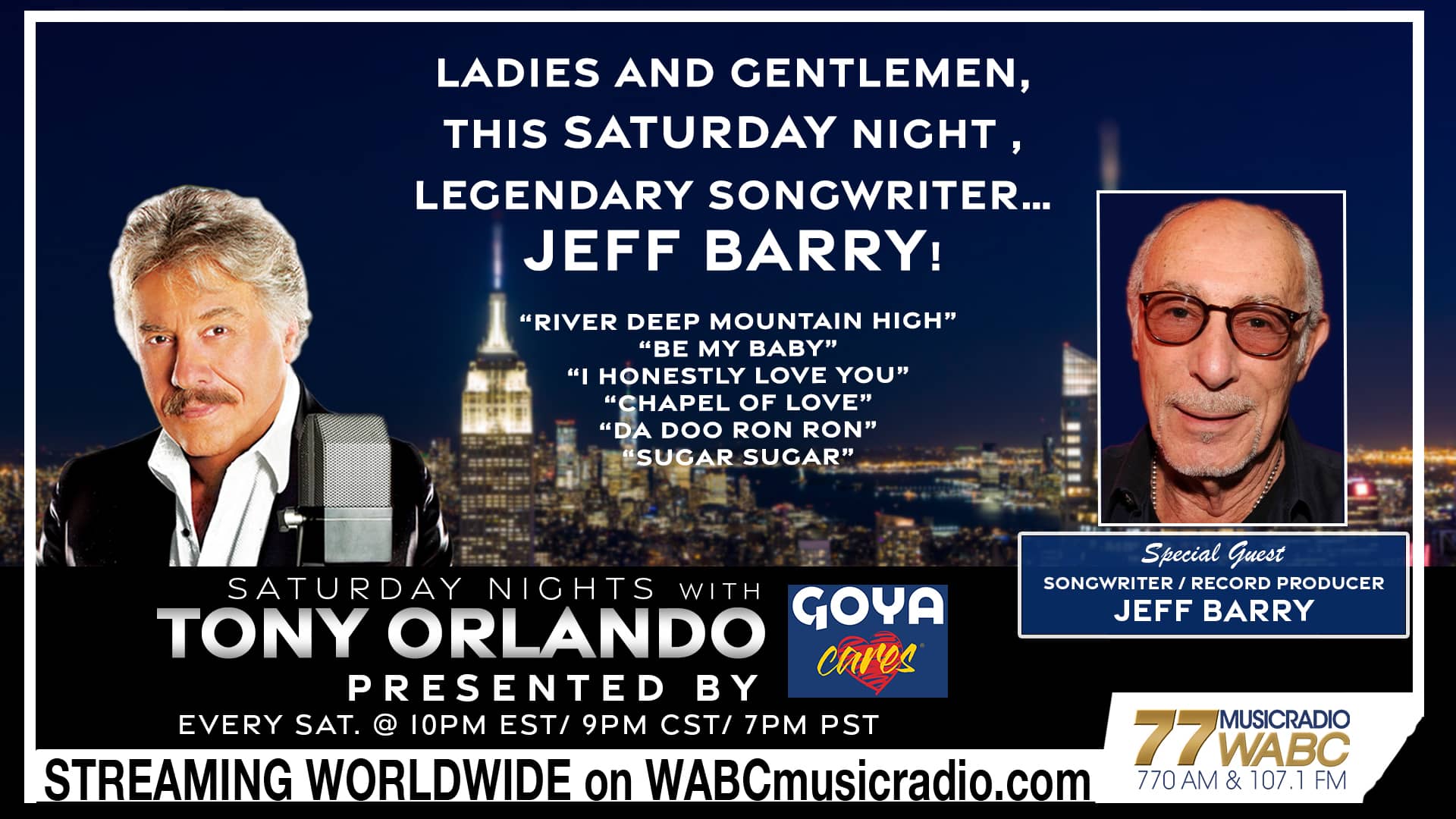 JEFF BARRY, Legendary Songwriter, Is My Guest This Saturday Night!
———————
This Saturday night, let's sing "Da Doo Ron Ron" and then shout out "Doo Wah Diddy" all the way to the "Chapel of Love"! And then we'll all sing
"I Honestly Love You" with the writer of all these hit songs
JEFF BARRY!
——————-
There are not many songwriters or record producers who have also been inducted into the Rock and Roll Hall of Fame who have a playlist of songs that they have written, that one can accurately say they are not only hit songs, but songs that have defined the careers of those artists who sang them, and also became their signature hits! That songwriter, is my guest this Saturday night.… The incomparable JEFF BARRY! Songs like "Be My Baby" "Da Doo Ro Ron" "Chapel of Love", "Hanky Panky", "Sugar, Sugar" To "River Deep, Mountain High" and Olivia Newton John's classic " I Honestly Love You"! Jeff Barry also gifted the world by discovering NEIL DIAMOND and produced Neil's first hits, such as "Cherry, Cherry ", "Solitary Man", "Kentucky Woman", to "Girl, You'll Be A Woman Soon".
This extraordinary songwriting genius and who I'm proud to say is also my friend, is JEFF BARRY!!! And he is my special Guest this Saturday night! I mean some of our guests are those of the like's of MIKE STOLLER, CLIVE DAVIS, BARRY MANN… all who have been guests on my show and this Saturday Night my special guest is JEFF BARRY who is also right in there with those greats! It is safe to say they are the Godfathers and architects of our great American Blues, Rock and Roll, and popular music!!! They truly are the producers and writers of the soundtracks of our lives. So, this Saturday Night, we play the music, and the hits , of this Rock and Roll Hall of Famer, JEFF BARRY, and we will have the opportunity to speak to him and thank this great songwriter and Record producer who's given us all so much ! Every song he wrote will bring back great memories for us all! So, yes be prepared for an awesome show!
Make sure you join us THIS Saturday night RIGHT HERE ON THE MOST POWERFUL,MOST ICONIC, MOST HISTORICAL RADIO STATION IN THE NATION…MUSIC RADIO 77WABC!
"Saturday Nights With Tony Orlando " is presented by GOYA Foods.
Listen:
10 pm-Midnight ET
9pm-11 pm CT
7pm-9pm PT
STREAMING WORLDWIDE ON WABCMusicradio.com!