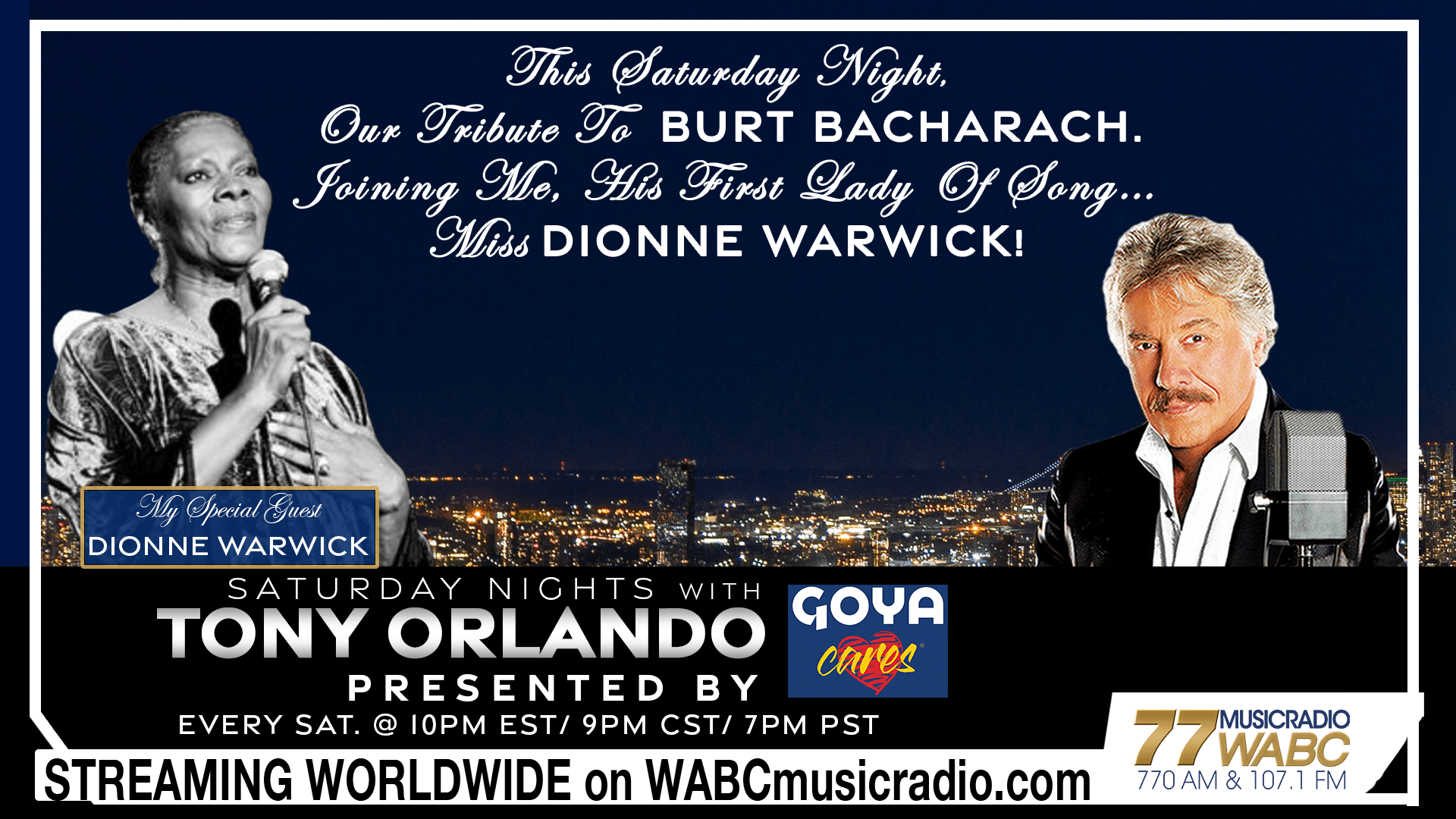 Hello my friends!
This collaboration of the songwriting genius of BURT BACHARACH, peppered with the brilliant lyrics of HAL DAVID, and then handing over his song to a voice like no other, and that voice belongs to none other than my guest and my friend… DIONNE WARWICK! DIONNE, who shares a heartwarming conversation with me about her life long partner and a man she refers to only as family, the man we will pay tribute to this Saturday night none other than BURT BACHARACH. We do a two hour show, and we could have done two more hours of BURT BACHARACH & HAL DAVID with songs that became Number One records for DIONNE WARWICK. Also. the songs written for Dionne with lyrics by the incredible lyricist CAROL BAYER SAGER, who for many years was Mrs. Burt Bacharach and collaborated with then husband Bacharach in which they together wrote the iconic song "That's What Friends Are For". This is a Saturday Night for all who love great songs and great vocal performances, and we will play those great recordings this Saturday night.
Also I want to share this with you…I'm talking about the kind of person DIONNE WARWICK is.
I hesitated for hours whether or not I should ask her to come on and talk about Burt, only days after his passing while she was still grieving, but I mustered up the courage and called her, apologizing for asking her to come on my show…But Dionne's answer, without taking a beat, she said Tony, "That's What Friends Are For"!!!
So, please join DIONNE WARWICK and myself as we pay tribute to the late, great BURT BACHARACH, this Saturday night! Right here on Music Radio 77WABC,
THE MOST POWERFUL!
MOST ICONIC!
MOST HISTORICAL RADIO STATION
IN THE NATION!
Proudly presented by GOYA FOODS!
Listen:
10pm-Midnight EST
9pm-11pm CST
7pm-9pm PST
STREAMING WORLDWIDE ON WABCMUSICRADIO.COM (https://urldefense.com/v3/__https://wabcmusicradio.com/__;!!GLfh-cLJdg!YJChI-oW8MJ-Y0PElQ2KAehSevJBjoGJEWFpFAhL5lLQfczyYwcVr3h3QVDsMw2EVYUzj_7rwqIbqAD7lOOfRUS2olIwA0dt-A$ ) !