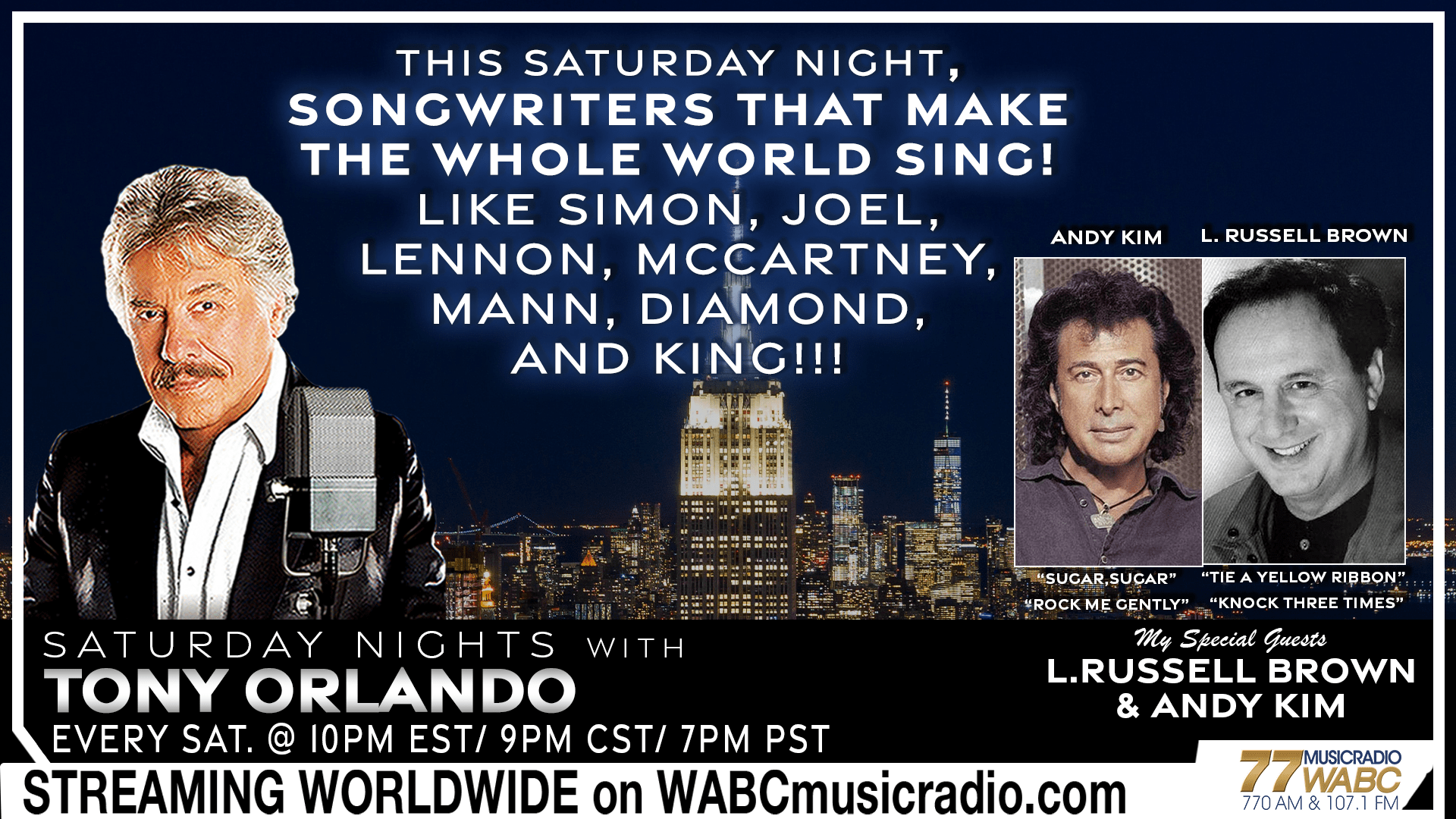 Hello friends!
I was thinking recently how most people don't realize that BRUCE JOHNSTON of THE BEACH BOYS wrote BARRY MANILOW'S mega-hit "I Write The Songs"…and that's true with so many artists including myself! People often think that I wrote "Tie A Yellow Ribbon" when it was really one of my guests this Saturday night, L. RUSSELL BROWN, who wrote it and so many hits for me including "Knock Three Times", "Say, Has Anybody Seen My Sweet Gypsy Rose?"…All of which went GOLD for us!
Another example is my first hit in 1961 "Halfway To Paradise" which was written by a teenager…Her name?…CAROLE KING! Long before she wrote so many hits for others and herself. CAROLE wrote hits with her husband GERRY GOFFIN such as "Will You Still Love Me Tomorrow?" for THE SHIRELLE'S, to "(You Make Me Feel Like A) Natural Woman"!
So, my point is that the songwriter, most of the time, never gets noticed unless they are the singer AND the songwriter. So, we make the point WHO is and WHAT is the most important component to having a hit "THE SONG". This Saturday night we honor both, and the writers on this show may just be the greatest of the 20th century. Join me this Saturday night, when we play the songs of writers such as LENNON-MCCARTNEY, GOFFIN AND KING, MANN AND WEIL, PAUL SIMON AND BILLY JOEL!
Also, I thought it would even be cool to play the writers demos before their songs were pitched to the artists ,and then we will play the artists final hit version! I also have my special guests this week, two incredible songwriter friends of mine, L. RUSSELL BROWN who wrote all of my hits with DAWN, and ANDY KIM with hits he wrote, the legendary songs such as "Sugar, Sugar" and his own Number-One song he wrote and sang "Rock Me Gently"! So, join me right here this Saturday nighton MUSIC RADIO 77WABC…
THE MOST POWERFUL,
MOST ICONIC,
MOST HISTORICAL RADIO STATION IN THE NATION!
LISTEN:
10pm-Midnight ET
9pm-11pm CT
7pm-9pm ET
STREAMING WORLDWIDE ON WABCMUSICRADIO.COM! To stream, just tap the link above and you're there!