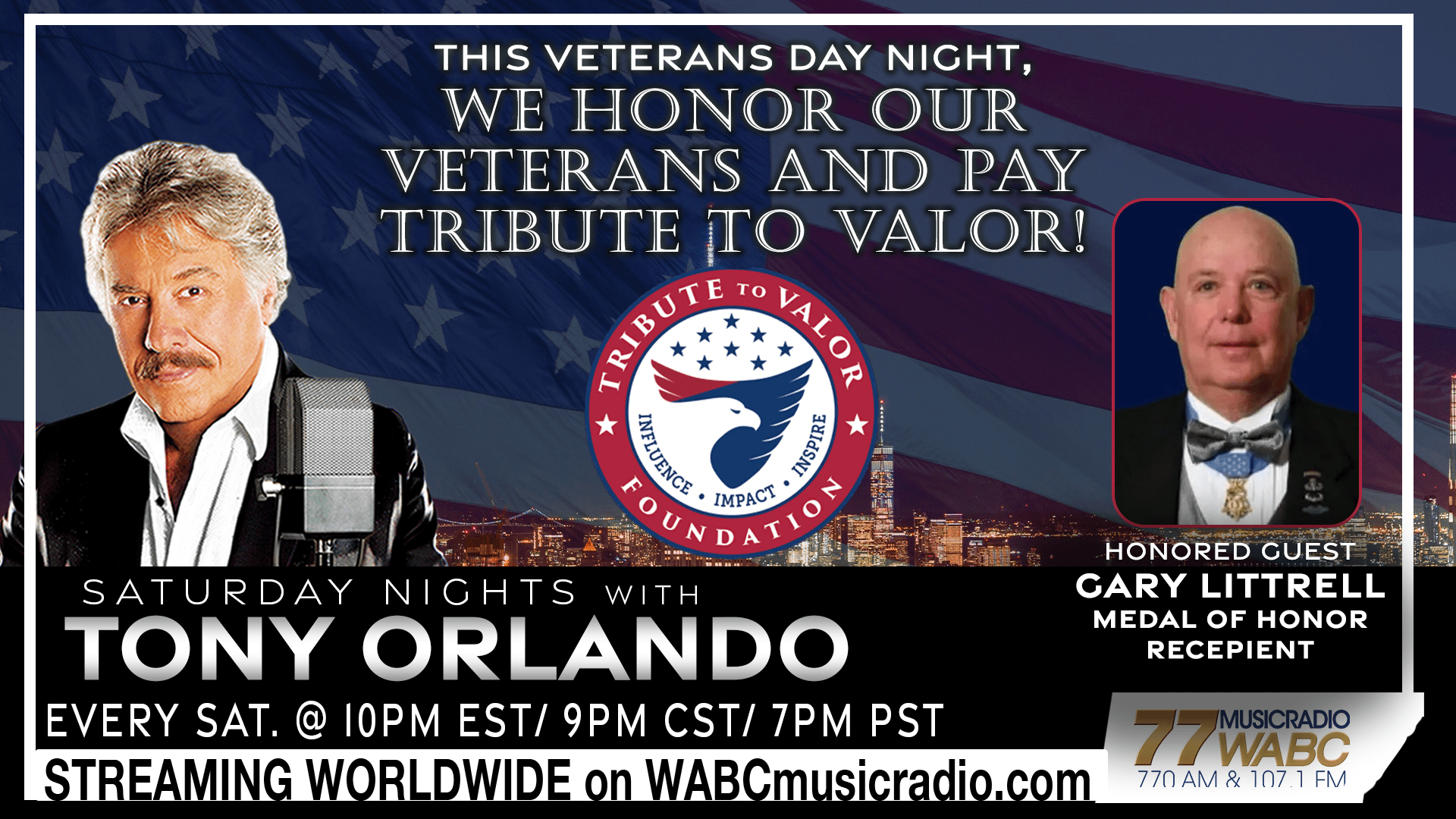 11-9-TONY-ARTICLE-6
Hello everyone!
This is the most important radio show we will ever do and we will do it do every year, here on MUSIC RADIO 77 WABC! Yes, it's VETERANS DAY, and it's a time to honor the men and woman who served and are now serving in our United States Military. We are proudly honoring those who are willing to sacrifice their lives for us, for our freedoms, and to honor those who gave the last full measure of devotion!!! And to honor a foundation that's very close to my heart, THE TRIBUTE TO VALOR FOUNDATION, founded by my special guest, friend, and hero… Medal of Honor recipient, GARY LITTRELL.
The TRIBUTE TO VALOR FOUNDATION brings the 6 core values to America's students that the Medal of Honor recipients live by, and they are:
COURAGE , COMMITMENT, CITIZENSHIP, SACRIFICE, PATRIOTISM, and INTEGRITY! They bring those core values to schools across the Nation as founder GARY LITTRELL and many of the MOH recipients go from Grammar schools, High schools, and to College Universities.
The mission is to inspire our American young people with their wisdom. They know that our young students are the future of our country, and share how incredible it is to be an American! So again, with these core principles, I think we all are grateful that these true American heroes instill these 6 core values to yours and my children, and our grandchildren…remember they are
COURAGE, SACRIFICE ,COMMITTMENT ,
PATRIOTISM, CITIZENSHIP ,and INTEGRITY!!!! So, please support the tributevalor.org…Thank you! And now…let's talk the playlist! I chose songs that I feel will inspire you and keep you in a Red, White, and Blue state of mind. So, this Veterans Day, on Saturday night, join me as we honor, salute, and thank our Veterans and thank those serving right now around the world! We say: THANK YOU FOR YOUR SERVICE!!!! Not only on this Veterans Day 2023, but EVERYDAY!!!
Join us right here on MUSIC RADIO 77WABC…
THE MOST POWERFUL,
MOST ICONIC,
MOST HISTORICAL RADIO STATION IN THE NATION!
LISTEN:
10pm-Midnight ET
9pm-11pm CT
7pm-9pm PT
"SATURDAY NIGHTS WITH TONY ORLANDO" CAN BE HEARD IN ALL 50 STATES, AND 173
COUNTRIES…YES, WE STREAM AROUND THE WORLD! TO STREAM JUST TAP THE LINK WABCMusicradio.com (http://WABCMusicradio.com)
, AND YOU'RE THERE!